---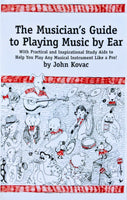 "The Musician's Guide to Playing by Ear" Booklet
John Kovac Harps by Davy C
Regular price $10.31
Tax included.
Shipping
calculated at checkout.
Practical & Inspirational Study Aids to Help You Play Any Musical Instrument like a Pro!
A most valuable & uplifting resource for any musician at any level of experience!
John Kovac, always the positive teacher, here kindly encourages us at each step of the way.
No matter your level of musical experience, you will gain valuable skills from reading this Guide, which will help and hasten you on your musical journey.
The guide contains John Kovac's hints collected from a lifetime of studying music.
Some thoughts are original, others have been provided by fellow performers and teachers. 
All are designed to help you throw away your music sheets and be able to play practically any tune instinctively by ear.
Whether you play an autoharp or a zither you

can

play by ear by following these time-tested techniques.

____________________________________________________________________________________________

Page samples from the booklet:
____________________________________________________________________________________________
Happy Creek Press, Virginia, USA
Copyright 2001
ISBN: 0-9668668-1-9