---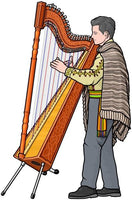 Sale
INSTANT DIGITAL DOWNLOAD - "Sentimental Harp" (Morinigo & Kovac)
John Kovac Harps by Davy C
Sale price $7.00 Regular price $9.00
Tax included.
Shipping
calculated at checkout.
This brand new release (March 2022) of music played on the Paraguayan Folk Harp by Geronimo Morinigo was recorded by John Kovac in the summer of 2000 & only distributed briefly.
Uplifting melodies of various genres from around the world as played on the Paraguayan Harp by master Paraguayan harp maker, Geronimo Morinigo
Geronimo is joined by John Kovac in a harp duet on Tracks 1 & 2, "Pajaro Choqui" & "Fanny Power."

This digital music file download also contains the original CD jewel case's Cover & Back Panels with song titles, copyright info, etc.
After your purchase of this digital CD download, you will be able to immediately download your digital CD at the time of purchase. (You will also get an email at purchase with the download link attached.)
You will have 7 days to download your file before it becomes unavailable for immediate download. (If necessary, the link can quickly be restored to you for a 7-day period, again.)
The Digital Download CD will be provided you in a .zip file format (easy to download, extract to your favorite music folder).
John Kovac's harp music plays back for you in Hi-Def audio .flac format.