---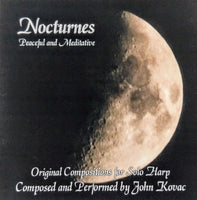 Sale
INSTANT DIGITAL DOWNLOAD - "Nocturnes"
John Kovac Harps by Davy C
Sale price $7.00 Regular price $9.00
Tax included.
Shipping
calculated at checkout.
by John Kovac, Composer & Harpist
Peaceful & Meditative
This is John's only, original compositions album for solo harp and suggests the romantic beauty of the night.
John recorded this album just several months after 9/11, having been moved by the events.
It only took a 3-hour recording session to bring about this work. 
John's harp tuning for this recording is interesting.  It's called Byzantine tuning. The 5th note of the scale is raised 1/2 step, in the Key of C, where the G is played as G#.
This digital music file download also contains the original CD jewel case's Cover & Back Panels with song titles, copyright info, etc.

After your purchase of this digital CD download, you will be able to immediately download your digital CD at the time of purchase. (You will also get an email at purchase with the download link attached.)
You will have 7 days to download your file before it becomes unavailable for immediate download. (If necessary, the link can quickly be restored to you for a 7-day period, again.)
The Digital Download CD will be provided you in a .zip file format (easy to download, extract to your favorite music folder).
John Kovac's harp music plays back for you in Hi-Def audio .flac format.